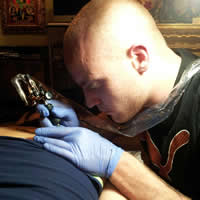 Art has always been a big part of my life, whether it is drawing, painting or tattooing, but I have been drawing for as long as I can remember. I started out drawing portraits from photographs and have since branched out to many other mediums and subjects.
I first took an interest in tattooing in my late teens, although I didn't get started with a formal apprenticeship until a couple of years ago. Tattooing became more fascinating to me as I realized that anything you could create on paper could be transformed into art on someone's skin if the artist was skilled enough. Since finishing up my apprenticeship I have found tattooing to be one of my most worthwhile undertakings, and I look forward to each piece I create. It's more than just a job for me as each day brings new challenges and inspirations.
Life does not get any better than this…I get to do what I love at a great shop, and when i'm not at the shop, I hang out with my family and go fishing every chance I get.
Thanks for looking at my profile. Come on down to Freakshow, and I will create a piece of art you'll love.